We all know that roadway crossing must be illuminated, so that even in the dark or wet roads, people waiting at the roadside can be clearly identified from both directions.
Roadway lighting
is different from other exterior lighting requirements, sidewalk lights generally have a beautiful or interesting appearance, and they can be part of the visual language.
Once people start to care about security at darkness, they will consider doing something to make street, park, plaza become an over-light area, such as installing in-pavement crosswalk lights. But actually, too much or too less brightness is not a good thing, it also would harm for people. The important key to make a good plan is connected to the lighting and space function, so that, when it comes to the bigger aspect, it is not only the
led street light
design standards, technology and security in
street lighting
.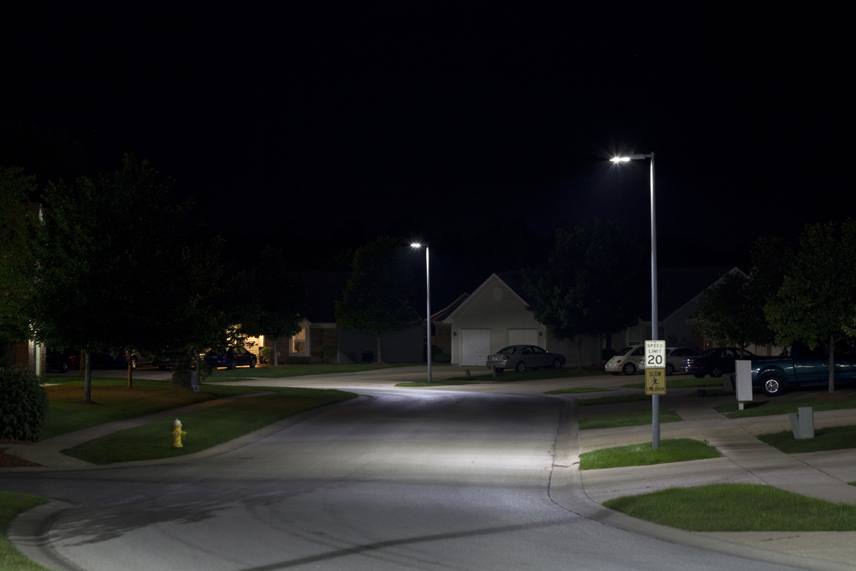 Although its aim for security at night, the successful street lighting not only think about the roadway lighting scale, but also consider the local DOT and public institution. The proper
led street light
techniques, quality and position can improve the environment, increase comfort and safety. Pedestrians would think that they can see the headlights coming up to them, it means that the cars drivers also can see them at night, actually, if without adequate lighting, drivers may not able to see pedestrian in time.
If a single street light installed directly on a crosswalk, that does not provide sufficient lighting for drivers and pedestrians.
Led street light
can be used alone or match with street lighting in high-activity areas to make the lights have maximize utilization. Besides,
Led street light
can be installed on the same pole as road lighting to reduce the number of poles in area. Therefore, it is the best to install led street lights on both sides of the main road and maintain uniform illumination on the road to ensure that the motorways and pedestrian lighting standards are reached. A study conducted by the Virginia Tech Transportation Institute found that 20 lx is necessary for drivers to see clearer when pedestrians on the sidewalk, in order to achieve 20 lx, the luminaire should be installed 10 feet from the sidewalk and between the sides of the sidewalk and the motorway.
At the intersection, the
led street lamps
should also be installed before entering the sidewalk of the intersection, which is different from the traditional way of installing the traditional lamps.
How to choose the suitable led street light to light up the roadway?
There are many types
led street light fixtures
from
Fanguang lighting
- a professional
led street lights manufacturer
.

Cap Led Street Light Style:
1. The lamps and lanterns are made of die-casting aluminum, with a light and strong structure and a waterproof rating of IP66;
2. The light-transmitting cover is made of high light-transmitting PC material, and the light refracted by the lens is soft;
3. The surface of the lamp is treated with electrostatic spraying, which has good high temperature resistance, beautiful and durable.
4. The light source power can be 30-200W, and the overall lighting effect can be 130-180lm/W.
Slim Led Street Light Style:
Slim shell Innovated and economy, slim led street light is designed with advanced integrated driver. The power factor is up to 0.99, which indicates an efficient LED light. Professional secondary optical design allows slim led street light can be widely used in sidewalks, parking lots and pedestrian lighting.
Led Shoebox Street Light
Style:
● Design light effect of the whole lamp: 130 lm / w.
● The radiator is designed in American style, the overall lamps and performance are designed according to North American standards
meter. Die-casting aluminum process, beautiful appearance.
● PC lens light distribution, Type Ⅲ light distribution mode.
● The lamp is equipped with a light sensor, which is more user-friendly.
● Four installation methods: round tube handle type, square tube handle type, pole handle type,
Light-emitting handle type to meet a variety of lighting installation needs.
● The packaging is made of pearl cotton + hardened K = K carton, which greatly protects the product during moving
Various collisions encountered during transportation and distribution.
● Product working environment temperature: -30 ° C ~ + 50 ° C
● IP65 protection grade
If you want to get more details, please feel free to contact us: http://www.floodledlight.com