Different heat dissipation configurations of
modular led street light
to investigate the changes in luminous flux,correlated color temperature,and temperature of the light. Heat-dissipation plate-fin and polymerizable liquid matrix thermal conductive material(thermal grease) were used to devise four types of
modular led street light
. Subsequently, light decay ratio,color shift,and temperature distribution of
led street light
were compared and comprehensively analyzed to determine the changes in the efficiency of heat dissipation in the
modular led street lights
. The modular led street light produced were switched on for long periods,and the results indicated that the modules comprising both the plate-fin and thermal grease outperformed the other modules. Combining
heat-dissipation
plate-fin with thermal grease(a thermal conductor) yielded a product that exhibited a light decay ratio of 87.6% and color shift of approximately 2.5%. An infrared thermometer was then used to measure the temperature at the center point of the modules, showing that the temperatures of the modular led street light were exceedingly lower than those of other led street light.The results verified that an effective heat dissipation configuration lowered the temperature of
modular led street light
, thereby enhancing the luminous flux and preventing color shift. To verify the validity of the experimental results,we compared different led street lights. In addition, the plate-fins were modified in terms of spacing,height,length,thickness,and surface coasting to optimize the effects of heat dissipation. Heat-dissipation plate-fin combined with thermal grease as thermal conductor and various measurement methods(such as an integrating sphere instrument to measure and verify the led street light decay ratio and color shift,thermometer) to verify whether the temperature at various points on the modular led street light differed when various heat dissipation configuration was used in the
led street light
. Overall,the experimental results indicated that a superior heat dissipation configuration lowered the overall temperature of
modular led street light
, thereby enhancing the luminous flux and preventing color shift.
1.Introduction
Lighting is a requirement that humans heavily reply on in their daily lives.As the world evolves and civilization advances,humans have developed different needs regarding lighting. Since the emergence of light emitting diode(LED) in 1996,
LED lighting
instruments have become a crucial necessity for humans. Despite exhibiting a wide variety of advantages, LEDs remain flawed in terms of heat dissipation. For a single LED component, the brightness curve corresponding to different temperatures in a LED reveals that the higher is the operating temperature of a LED,the lower is its brightness performance value. Thus,to apply LEDs in
high-power lighting
instruments,problems concerning the heat dissipation of LED must first be resolved.
Previously,the heat dissipation mechanical design of a product,using various heat dissipation mechanical designs(fin quantity,spacing,and structure) in software simulations to identify optimal product designs and improvement strategies. Instead of using heat sink,increased the quantity,surface area,or thickness of heat-dissipation plate-fins under natural convection or placed plate-fins in different directions and to simulate the distribution of thermal field.
Commercial
modular led street light
equipped with light emitting diodes(LEDs)
Were randomly choosed from several led street light companies. The structural design of these
led street light
as well as a heat-dissipation plate-fin and polymerizable liquid matrix thermal conductive material(thermal grease) were used as bases for devising four types of
modular led street light
. These modular led street light were employed to investigate how different heat-dissipation designs influence
modular led street light
in an environment where natural luminous flux exists. Integrating sphere instrument to perform steady-state measurements on light modules when switched on for long periods. In addition,an infrared(IR) thermometer was used to measure the temperature at the center point of the modules. Finally, a cross-comparison of the measurement data was conducted, analyzing how the measurement results differed when modular led street light were integrated with a heat-dissipation plate-fin and conductive medium(thermal grease).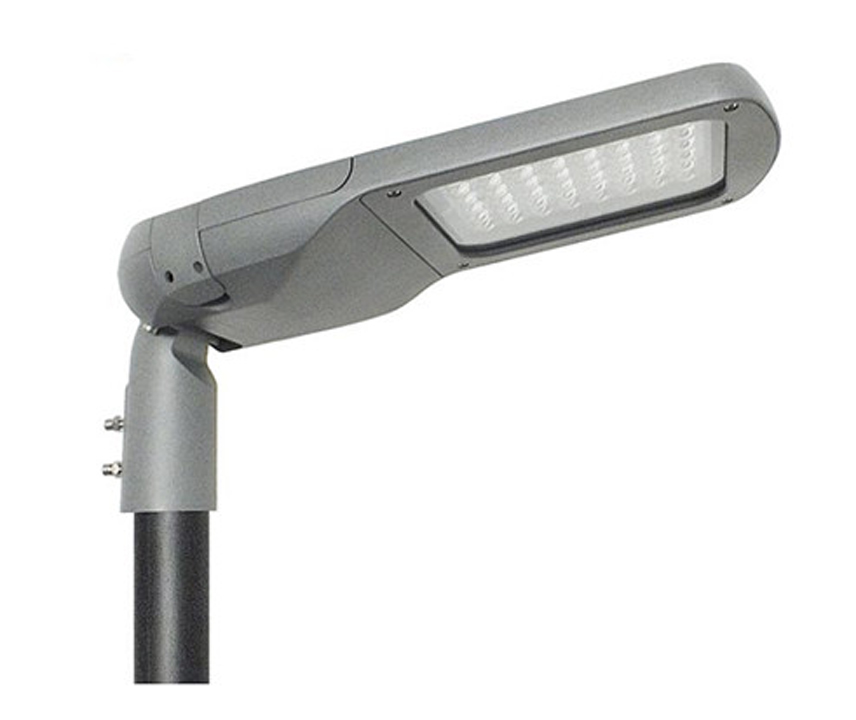 2.Conclusion
Different
heat-dissipation
architectures for
led street light
,proving a reference on relevant heat dissipation conditions for optmizing the efficiency of heat dissipation in led street light instruments. Moreover the results showed that themal grease and heat-dissipation plate-fin significantly influenced the heat-dissipation effects of
modular led street light
,because thermal grease is composed of polymerizable liquid matrix thermal conductive material,which fills the gap between the plate-fin and lighting modules,thereby enhancing the heat-dissipation ability of led street light. Applying these two heat-dissipation factors to
high power modular led street light
,results in an excellent cooling effect that strengthens the lighting efficacy of LEDs and enhances product lifetime. As technologies advance,led street light performance is likely to improve. Therefore,developing a design that increases the heat-dissipation capability of led street light is a goal for future undertakings.
Fanguang Lighting Co., Ltd
is China professional
led lighting manufacturer
for many years,we can provide high quality
modular led street light
for your
led street light
solution.
Any need,please contact with us:
[email protected]