What's the
LED flood light
? They are solutions to light up large areas such as stadium, warehouse, factory, airport hangar, apron, parking lot, ball field, construction site, light tower, garage, billboard and so on. There are wide range of powers available such as
high power Led flood light
series – 1000W, 2000W, 3000W, 5000W; low power LED – 100W, 200W, 500W, 700W, and so on, which are suitable for doing the LED replacement with halogen, metal halide, HPS, LPS or fluorescent area lighting. For each
LED flood light
solution,also have many types design,such as:
Slim led flood light
,
Modular led flood light
,
Linear led flood light
and etc. We will have a brief introduction and application idea with
Modular led flood light
.
The common advantages of our
modular led flood light
series is remarkable energy efficiency and lifespan. By retrofitting from MH, halogen or HPS lamps to LED, up to 80% electricity bill can be saved. Due to its high durability,
LED flood light
works for 20 to 30 years and hence reduce the replacement rate. And hence, selecting
LED flood light solution
reduces your power consumption as well as disposal frequency, which is better to our environment.Powerful, effective and economical outdoor
Modular LED Flood light
. Instant illumination with substantial energy saving cost for use in a variety of outdoor locations. Ideal for enhancing the security and appearance of commercial buildings, gardens, driveways, outdoor parking areas etc., making them the right choice for environmentally responsible lighting. Ideal replacements for halogen, HID and other floodlights with the benefit of super brightness but at a fraction of the running costs.
Our
Modular led flood light
provide a perfect solution for multiple applicatons for indoor and outdoor, which including
tunnel lighting
,
area lighting
, parking lot lighting,
stadium lighting
, landscape lighting, security lighting, billboard lighting,
high mast lighting
etc. The aluminum extrusion provides high effective heat dissipation for led modules, and to ensure low led junction temperature and long lifespan of leds, high lumens output. Taking high brightness of LUMILEDS or osram SMD3030,SMD5050 chips and Meanwell or Sosen led driver to assure high quality. Top quality polyester poweder coating and IP65,IP66,IP67 grade will assure superior weatherability against water penetration, rust and fade against UV.This series of modular led flood lights can be anti-level 17 hurricane, impact grade is IK10. With warranty 5 years, it is really a fit and wonderful products for your project.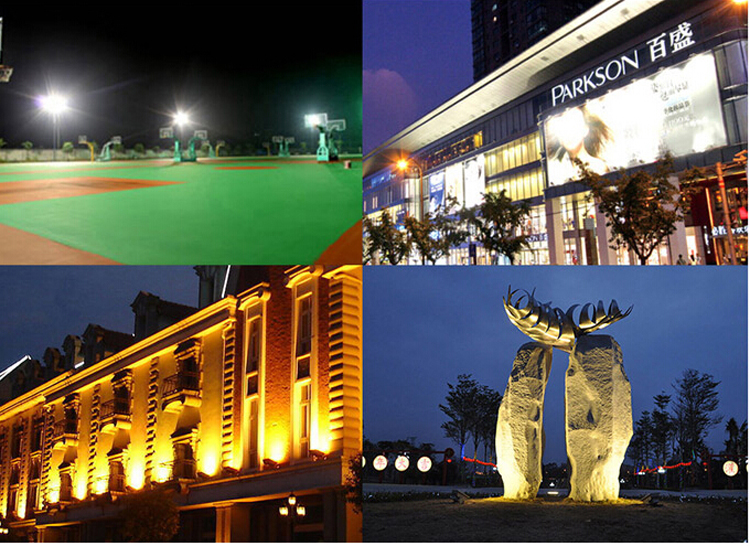 Modular Led Flood Light Series Features:
1. Using high-quality LED as light source, energy saving and environmental protection, compared with traditional light source, energy saving is more than 60%.
2. long life, can be used for more than 5 years under normal circumstances.
3. the light is even and soft, and the brightness is high. The color rendering is good, the color of the real object is more realistic, and various light colors are available to meet the needs of different environments.
4. fast start, no flicker, no noise.
5. using high efficiency constant current driver, wide voltage input, can work in places with unstable voltage.
6. lightning protection, the lamp body is made of aluminum alloy material, high strength, corrosion resistance and weather resistance, good heat dissipation.
7. Green and environmentally friendly, using lead-free and mercury-free process
8. no radio frequency interference.
Any need,please contact with us:
[email protected]